International Champions Cup - July/August 2016Background
In the
summer of 2013
, Stephen M. Ross and Relevent Sports revolutionized the international soccer landscape by organizing the Guinness International Champions Cup (ICC), transforming the standard European club preseason tour into something remarkable: a competitive, world-class tournament.
The
inaugural edition
featured eight top clubs across six U.S. cities - Real Madrid, Juventus, Chelsea FC, Inter Milan, AC Milan, Valencia, Everton and the LA Galaxy - culminating with a spectacular final in Miami won by Real Madrid over Chelsea FC in front of nearly 70,000 fans.
The
2014 International Champions Cup
raised the bar, doubling in size across 13 cities in the United States and Canada. Featuring another star-studded lineup, European powerhouses Real Madrid, Manchester United, Liverpool, Manchester City, A.C. Milan, Roma, Inter Milan and Olympiacos played three matches each in a new round-robin format. Group play was highlighted by a U.S. record-breaking crowd of 109,318 fans at the University of Michigan's "Big House" as Manchester United defeated Real Madrid in the largest soccer match in U.S. history. More than 631,000 fans attended the tournament, with a global audience of over 80 million tuned in throughout 150 countries. ICC 2014 concluded with an all-English final as Manchester United capped off an undefeated tournament with a 3-1 victory over Liverpool at Sun Life Stadium in Miami, FL.
2015
began the International Champions Cup's global expansion, with the tournament kicking off three team editions in both Australia and in China. The round robin tournament at the Melbourne Cricket Ground in Melbourne, Australia featured 2013 ICC champions Real Madrid and 2014 participants Manchester City and AS Roma, and was won by Real Madrid. The Spanish side continued their winning ways in China, playing 2014 ICC participants AC Milan and Inter Milan with games in Shenzhen, Guangzhou, and Shanghai. In addition to the Melbourne and China based competitions, the 2015 International Champions Cup North America, held across 11 cities, included Manchester United, FC Barcelona, Chelsea FC, SL Benfica, ACF Fiorentina, Club América, the LA Galaxy, the New York Red Bulls, the San Jose Earthquakes, and eventual champions Paris Saint-Germain.
Following up on the success of 2015's global tournament, the
2016 International Champions Cup
continues its expansion into Australia, China, and Europe to bring the best clubs in the world into four different continents. The ICC in 2016 will include Real Madrid and Paris Saint-Germain, Leicester City FC, AC Milan, FC Bayern Munich, FC Barcelona, Chelsea FC, Liverpool FC, Inter Milan, and Celtic FC all across North America and Europe! The Melbourne Cricket Ground in Australia will serve again as host to some of Europe's finest, including Juventus FC, Tottenham Hotspur, Atlético de Madrid, and local A-League side Melbourne Victory. In China, the first team announced has been Manchester City FC, with two more to come.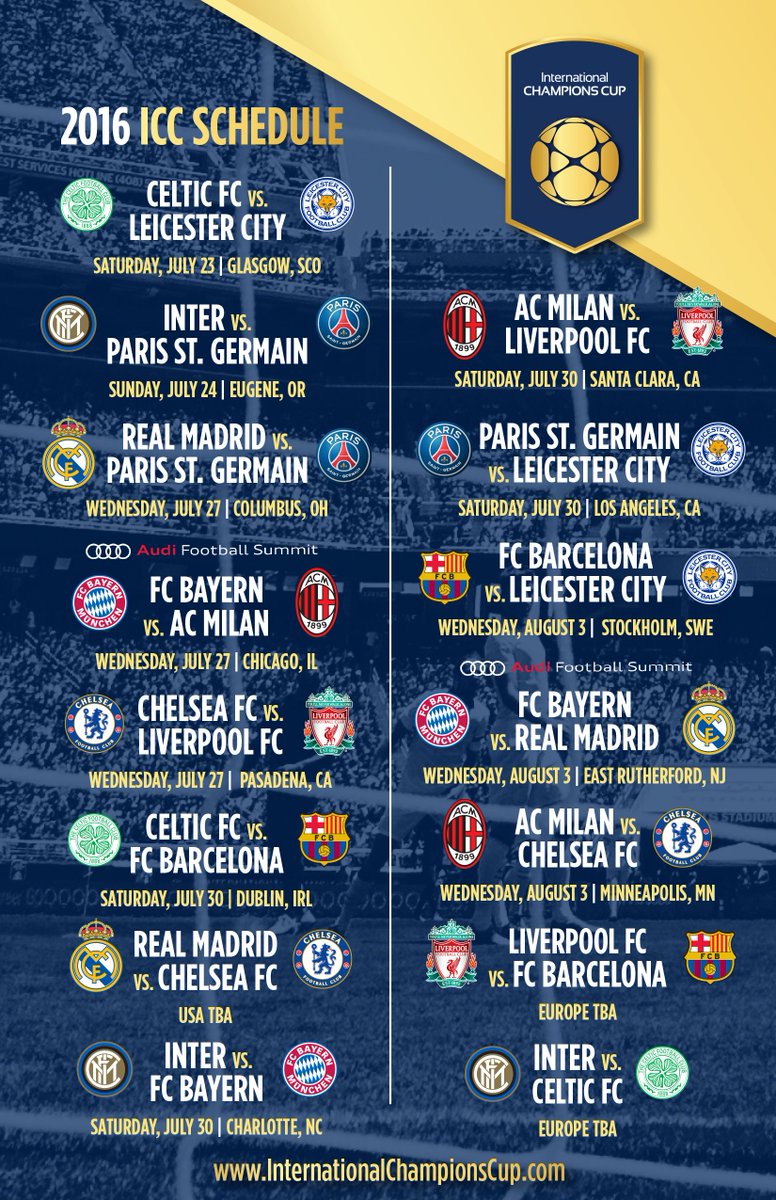 Anyone interested??!